(ABC) Ana Boot Camp Extreme Diets Program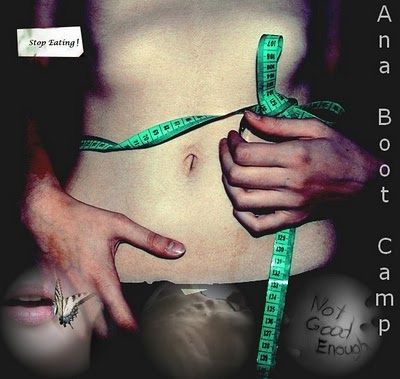 The ABC diet, short for Ana Boot Camp, is a 50-day fasting diet regimen in its desperate move to lose weight. It indulges a person to strictly follow required amount of calorie intake ranging from 800 down to 0 calories daily. With indefinite variations of caloric intake per day, the said program aims to condition both an individual's mind and body, anticipating its eventual claim to fully embrace the system. Hence, weight loss is triumphantly achieved.
Due to its undying support for pro-ana movement, these group of people merely perceive that anorexia is the best solution to weight problems instead of a pathological condition. Anorexia is a metabolic related psychiatric condition wherein the person develops depression for unsuccessful series of attempts to lose weight and may stop, avoid or do binge eating. An individual may perceive his appearance as incredibly large in front of the mirror that would resort him to fast for days, then the cycle repeats until the person's mental state is greatly affected.
Extreme diets such as the ABC diet may subject the person to drastically go back to his old poor eating habit of consuming too much foods only to force himself to vomit everything he has eaten afterwards out of guilt and shame. Initial signs and symptoms of anorexia include a quick drop in body weight, heart palpitations, lethargy, headache, abdominal distention, gas pains, muscle weakness, fatigue, dizziness and fainting.
When a human being suffers chronic nutritional deficiency, his decisions and ability to make rational judgements are often clouded, and may therefore result to serious mental and physical (electrolyte imbalances, and cardiac arrest) disorders in the long run.
Find more diabetes related posts:
Subscribe in a reader